I'm on a mission to start blogging more frequently, so why not jump onto the bandwagon with the
Etsy Homefront Team
and join in on their Monday Meet-Ups!
A "Monday Meet-Up" is when it's the 2nd or 4th Monday of the month, questions are posted on the Homefront Team Blog for anyone to answer! :)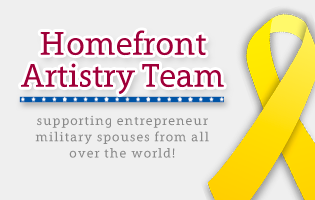 This weeks questions were asked by Sarah from
Fl
o
rida Scarf
on Etsy:
1. What song is your personal anthem? If you don't have an anthem a favorite song will do.
MY ANSWER - "No Rain" by Blind Melon is definitely my personal anthem. I could totally see myself rocking that Bee Outfit the little girl is dancing around in...it's not sane. :)

2. What is your favorite ride at an amusement park?
MY ANSWER - Anything that is death-defying with crazy corkscrews and loop-da-loops! If when I get off the roller coaster I don't feel like I'm going to hurl, than it wasn't worth it!
3. What was your favorite restaurant at any of your past/present duty stations?
MY ANSWER - How hard is this to answer, when we are currently stationed in Italy? So far, the best food I've had has got to be at this little restuarant in Gaeta, which I can't recall the name. All I know is I fell in love with gnochhi...
4. Where is your favorite place to go for supplies?
MY ANSWER - any craft store will suffice, but currently since I'm overseas it's been limited to online ordering. I will admit I have found myself to be resourceful and utilized the local stores (including the Panaroma and Brico) to do some of my bidding. But I totally miss being able to wander through the aisles of Jo-Ann's, AC Moore's, and Michael's pretty often.


Want to check out some GREAT handmade treasures made from USA military spouses across the world? Search
"homefront team"
at
Etsy
!